Smoothies are perhaps the ideal breakfast for weight loss since they are packed with vital nutrients that keep your body fed throughout the morning. They require no preparation or cleaning, need just a few ingredients, require no cooking, and result in a morning smoothie that really keeps you full. However, not all breakfast drinks will suffice.
You'll find something to satiate every desire in this selection of morning smoothies for weight loss, from a substantial breakfast to a cheesecake-inspired dessert. Each breakfast drink has the ideal combination of muscle-building protein, satiating fats, and digestion-supporting fiber for a healthy morning meal. Because we've already done the legwork of identifying nutritional champions, all you have to do is choose a recipe, run the blender, and enjoy! These are some of our favorite weight-loss breakfast smoothies.
Vanilla Chai Smoothie
This decadent smoothie is made with masala chai tea, oats, banana, and more cinnamon to keep you satiated until lunch. Utilizing tea in your morning drinks is an excellent method to add taste and health benefits.
Chocolate Tofu Smoothie
This smoothie contains silken tofu, which provides an additional source of plant-based protein and a silky smooth texture. Additionally, there is a hidden component that aids with immune support called Reishi Mushrooms.
Spirulina Piña Colada Smoothie
This tropical plant-based spirulina smoothie will infuse your mornings with nutrients and color. It evokes the essence of a pia colada by combining a light coconut base with frozen pineapple. What is there not to adore?
Blood Orange Beet Smoothie
Are you up for a cleaning smoothie? This Blood Orange Beet Smoothie is going to become a staple in your refrigerator. There is no doubt that after a glass of this exquisite beverage, you will feel revitalized and prepared to face the day.
Peanut Butter and Jelly Protein Smoothie
If you love the classic childhood sandwich, you must try this recipe—like it's drinking a tiny bit of salty-sweet paradise via a straw. Frozen berries, all-natural peanut butter, vanilla protein, rolled oats, and soy milk are blended together to produce a protein-packed delightful flavor that is low in calories. If you don't care for soy milk, you can use whatever unsweetened milk you like instead. It won't change the flavor or nutrient profile much, and it'll still be one of our top weight loss smoothies.
Key Lime Pie Drink
While key lime pie tastes fantastic, the components such as heavy cream, sweetened condensed milk, butter, and sugar are far from ideal for your waistline. This drink, on the other hand, is sugar-free and packed with 42 grams of muscle-building protein—more than a day's enough for someone who isn't particularly active and almost half of what a devout gym rat needs. While the inclusion of cottage cheese may seem odd, it provides the drink with its delicious milkdrink-like consistency. If you are lactose intolerant, substitute tofu for the dairy. To make your drink as healthy as possible, omit the pudding mix and xanthan gum—both of these ingredients contribute unnecessary calories and toxins.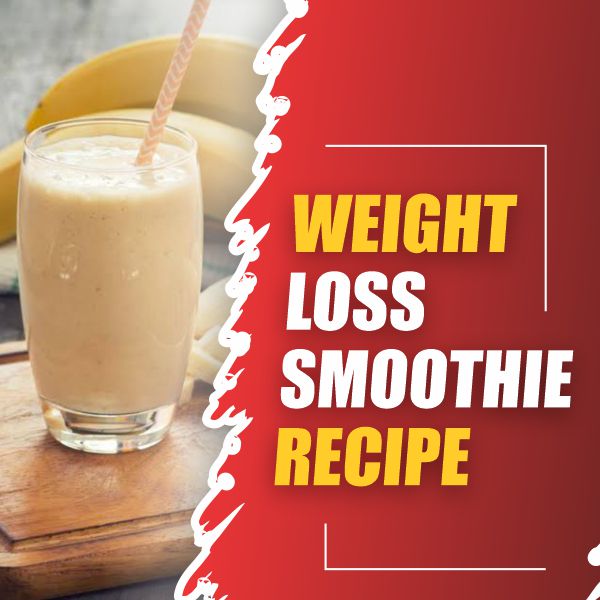 Sunrise Smoothie
The moment you start drinking this tropical-flavored smoothie, you'll be transported away on a little mental vacation. Allow the high carbohydrate and sugar content to fool you; they come from berries, an orange, and a banana—all vitamin- and fiber-rich fruits and vegetables that will help you stay trim and healthy.
Dark Chocolate Peppermint Drink
This minty sweet drink lets you enjoy the taste of chocolate peppermint bark at any time of year, without the added sugar and fat. Although one of our favorite weight loss smoothies tastes like dessert, it doesn't have the same waist-expanding benefits. Top your drink with a dab of Greek yogurt to take the show and protein count to a higher level.
Almond Butter Protein Smoothie
With just four ingredients, this smoothie comes together in no time. Almond milk and nut butter offer a good source of natural protein, while chia seeds provide antioxidants and heart-healthy omega-3 fatty acids. This makes an excellent on-the-go breakfast or afternoon snack. Add a few drinks of cinnamon to amp up the flavor of your drink. It will not only enhance the flavor of the drink, but will also help zap stubborn belly fat and regulate your blood sugar, which will help you avoid diet-defeating cravings.
Coffee Banana Protein Smoothie
What are the similarities between yogurt, bananas, and coffee? They're all delectable breakfast staples that combine to produce this protein-packed smoothie. The combination of caffeine, natural sugar, and protein is excellent for refueling after a strenuous morning exercise. If you want a little more protein or a creamier texture, add a touch extra yogurt or 2% milk.
RELATED ARTICLES
Grape and Blueberry Protein Smoothie
If you're not a fan of nutrition powders—or if you've simply ran out of your favorite at home—you're going to enjoy this innovative weight loss breakfast smoothie. The writer suggests using scrambled and blended eggs in place of whey or plant protein, which is an excellent fat-burning tip! The protein in the egg helps in muscle repair, while the choline in the yolk combats fat cells to give you that slim appearance you want. Additionally, the berries and grapes include more than a day's worth of vitamin C, which helps in weight loss attempts by combating cortisol, a troublesome stress hormone that promotes fat accumulation.
French Toast Protein Drink
The fresh French toast flavor you want with much more protein and a quarter of the fat and calories—now that's a reason to get up in the morning! Though we like the concept of this drink, we're not fans of the three to five packets of Stevia suggested. Because the sweetener is much sweeter than sugar, we recommend beginning with two packets and gradually increasing as required. The less you can use, the better.
Berry Oat Smoothie
A time you might not feel like taking oatmeal, regardless of how healthy it is. This smoothie has a generous amount of antioxidant-rich blueberries and oats to help you retain the benefits and remain satisfied until noon. Simply ensure that your homemade version contains one of our finest yogurts for weight loss.
Chocolate Peanut Butter Banana Breakfast Drink
Frozen bananas and peanut butter combine to create a thick, milkdrink-like consistency in this smoothie that will fool you into thinking it's naughty. When unsweetened almond milk is used, however, the smoothie is protein-packed without the sky-high sugar content seen in other smoothies.
Blueberry Almond Butter Smoothie
Look no farther if you're seeking for a meal-replacement smoothie. This one is packed with protein because to the almond butter and antioxidants thanks to the frozen blueberries. Cravings won't return until an hour later with over 18 grams of protein and a healthy amount of fiber.
Raw Chocolate Smoothie
Raw cacao is fundamentally different from commercial chocolate in two ways: it is filled with potent antioxidants and has a surprising quantity of fiber. When combined with a portioned quantity of honey, it's just as sweet and decadent as you're accustomed to, except that it's really healthy.
Raw Banana Bread Drinks
When you choose this smoothie, you'll receive all the warm, comforting taste of the weekend morning classic without any of the flour or butter. Additionally, walnuts include beneficial omega-3 fatty acids, protein, and fiber that help keep you satisfied.
Peach & Oat Breakfast Smoothie
Frozen peaches, ripe bananas, fiber-rich oats, almond milk, and protein-rich Greek yogurt combine to make a full meal in less than three minutes. It has six grams of protein and five grams of fiber, which will help fend off mid-morning hunger.
Carrot Cake Smoothie
This carrot cake smoothie is packed with beneficial fats: Polyunsaturated fatty acids, such as those found in walnuts, may boost calorie burn and resting metabolic rate while dieting. Additionally, walnuts have the highest concentration of heart-healthy omega-3 fatty acids of any nut! Additionally, one cup of this smoothie has a whole day's worth of vitamin A.
Orange Julius Protein Smoothie
The mall rat's preferred sugar bomb gets a healthy, protein-packed makeover. Cottage cheese (or Greek yogurt) offers a strong protein foundation, while orange zest and juice provide sweetness and antioxidants without adding too much sugar.
Pear Power Smoothie
While the autumn harvest yields many well-known superfoods, such as pumpkins and apples, this recipe highlights the often-overlooked pear. This seasonal fruit gets its superfood designation because to its high vitamin C, antioxidant content, fiber content, and pectin, a soluble fiber that aids with digestion. Cinnamon provides an additional anti-inflammatory punch to the pear's crisp flavors.
Blackberry Cinnamon Smoothie
Packed with belly-filling fiber and manganese, a mineral required for energy generation, this weight-loss breakfast smoothie is confirmed to fulfill your need for a delicious dessert while also staving off the pre-lunch cravings. If you're searching for a more nutritious breakfast.
Avocado and Lime Green Tea Smoothie
If you're not a fan of green juice, how about a green smoothie? Her writer incorporates a variety of nutritious greens into this recipe, including broccoli, parsley, zucchini, and kale. Green vegetables are regarded superfoods due to their strong antioxidant content, high vitamin C content (136 percent of the daily value!), and important phytonutrients for detoxification. Add the additional advantages of catechins, an antioxidant present in green tea that prevents belly fat from being stored, and you'll leave breakfast feeling lean and energized.
Strawberry Beet Smoothie
If the vibrant pink hue does not rouse you, the increased blood flow to your muscles after consumption will! Beet nitrates thin your blood, allowing it to circulate more freely to your muscles, boosting endurance and reducing blood pressure. According to a research published in the journal Nutrients, drinking beet juice 90 minutes before to a sweat session may help you exercise longer. If you're trying to get a flat stomach at the gym, add this recipe to your list of pre-workout snacks.
Grapefruit Green Smoothie
Enhance the vibrancy of your green regimen with this Grapefruit Green selection. This drink is packed with fiber, potassium, and manganese from the apple and banana — which also provides a creamy, natural sweetness — and is boosted with tangy grapefruit. Even better, thinning it with its juice helps make this beverage light and delicious.
Clementine Sunshine Smoothie
This creamsicle-inspired smoothie is a drink of sunshine. Even though this drink has just four components (clementines, ice, almond milk, and salt), it contains about 240 percent of your daily vitamin C requirement and contains virtually no fat.
Matcha Mint Chip Smoothie
This vibrant green beverage is made with mint leaves and matcha powder, a tea that is packed with anti-aging antioxidants and metabolism-boosting chemicals. Unlike the ice cream taste, which is sweetened with sugar and milk, this drink is made creamy using avocado and almond milk. Add cacao nibs as a sugar-free substitute for the chocolate chips, and this drink will satisfy your chocolate cravings while also recharging your batteries.
Healthy Peanut Butter Cup Smoothie
Anything with the words "healthy" and "peanut butter cup" in the title seems deceptive, yet this is an incredibly slimming delight! With 46% of your daily calcium need and 8 grams of protein, this may be served as either breakfast or dessert. Want to increase the protein level of your post-workout snack? By using peanut flour for peanut butter, you may also halve the fat level.
Kale Ginger Detox Smoothie
If your diet has consisted mostly of butter-laden meals and sugary sweets, you're in luck since this is the ideal method to reset your system after weeks of fat and sugar abuse. With immune-boosting cinnamon, bloat-busting ginger, heart-healthy chia seeds, fat-burning bananas, and fiber-rich blueberries, this smoothie strikes the ideal mix of warm and fresh tastes, leaving you feeling rejuvenated, clean, and full.
Matcha Drink
This drink is smooth and creamy, thanks to the soy milk and banana, and enlivened by the watermelon, for an amazing start to your morning. Chia seeds provide a healthy dosage of omega-3 fatty acids. Drink this before to a workout. Matcha includes catechins, which may aid in the release of fat from your body's cells and accelerate your liver's capacity to convert stored fat to energy.
Carrot Pear Lavender Smoothie
We're smitten with this blogger's unusual taste combinations. She creates an appealing and refreshing combination of fruit (pear) and vegetables (carrots). This recipe will make your body and mind happy: the carrots will keep you satiated because to their high water content, vitamins & antioxidants while the lavender will improve your mood and help you feel less fatigued.
Green Apple Pie Smoothie
These silky weight loss breakfast smoothies taste like apple pie in a glass. Rather of using milks or sweet bananas, you'll use creamy silken tofu, which has 18 grams of protein without the addition of protein powder.
Radish Detox Smoothie
In the past, we've relied heavily on superfoods like kale, spinach, and bananas in our health beverages. Rather than that, this recipe makes use of an underappreciated nutritious food: radishes. Although radishes are not conventional ingredients, this low-calorie drink benefits from both the radishes and the leaves, which may help lower bad cholesterol and insulin levels while increasing good LDL cholesterol.
Kiwi Basil Smoothie
Take a step outside of your comfort zone with this wacky combination. The basil and banana provide a calm note, while the grapefruit and kiwi provide a zesty note. While the 46 grams of sugar will certainly satisfy your sweet appetite, the natural sweetness will not inflate your stomach. This recipe contains vitamin C from the tropical kiwi fruit, which aids the body in oxidizing fat during moderate-intensity exercise.
Raspberry Coconut Smoothie
Need to chill down after a scorching day at the beach or a strenuous workout? Take a sip of this delicious tropical-inspired beverage. What's the greatest part? The raspberries that give it its distinctive taste are high in polyphenols, potent natural compounds that promote fast weight loss and even prevent fat formation!
Vanilla Date Smoothie
No time to eat after your workout session? Prepare this beverage as a delectable, decadent-tasting post-workout meal. Following an exercise, the body needs a mix of quick-acting carbs and protein to jump-start the healing process, which this delivers. Though the sugar content seems to be excessive, the sweetness comes entirely from the fruit, so as long as you do not have a health problem such as diabetes, there is no need to fret!
Superfood Power Smoothie
With an abundance of superfoods and a light, refreshing taste, this dairy-free, high-fiber smoothie is anything from average. Apart from its double-decker, Instagram-worthy look, this drink has two of our favorite fat-burning fruits: apples and strawberries—it doesn't get any better than that!
Raspberry Cheesecake Smoothie
A normal piece of raspberry cheesecake from a restaurant may have up to 930 waist-widening calories, the bulk of which come from sugar and fat—not the kind of thing you want to consume if you're trying to lose those love handles. Instead of succumbing to a dessert desire, prepare this. While it may not taste precisely like the original, it will be near enough to please your taste buds.
Chai Gingerbread Smoothie
Begin the Christmas season on the right foot with this high-fiber, protein-packed beverage inspired by the season's trademark flavor: gingerbread! This chai-infused morning smoothie is free of the extra sugars found in gingerbread cookies.
Cinnamon Roll Smoothie
Cinnamon roll makes a delectable breakfast. However, this is hardly a meal that will keep you satisfied or fuel your efforts toward a flat stomach. You'll receive the sweet, slightly-burnt taste you want without jeopardizing your diet. That is what we refer to as a win-win situation!
Maple Cinnamon Blueberry Smoothie
This sippable delight is a wonderful morning drink, inspired by the tastes of a forest cabin and blueberry pancakes. The recipe specifies a dairy-free yogurt replacement, however this may simply be replaced with a dairy-based yogurt to boost the calcium content.